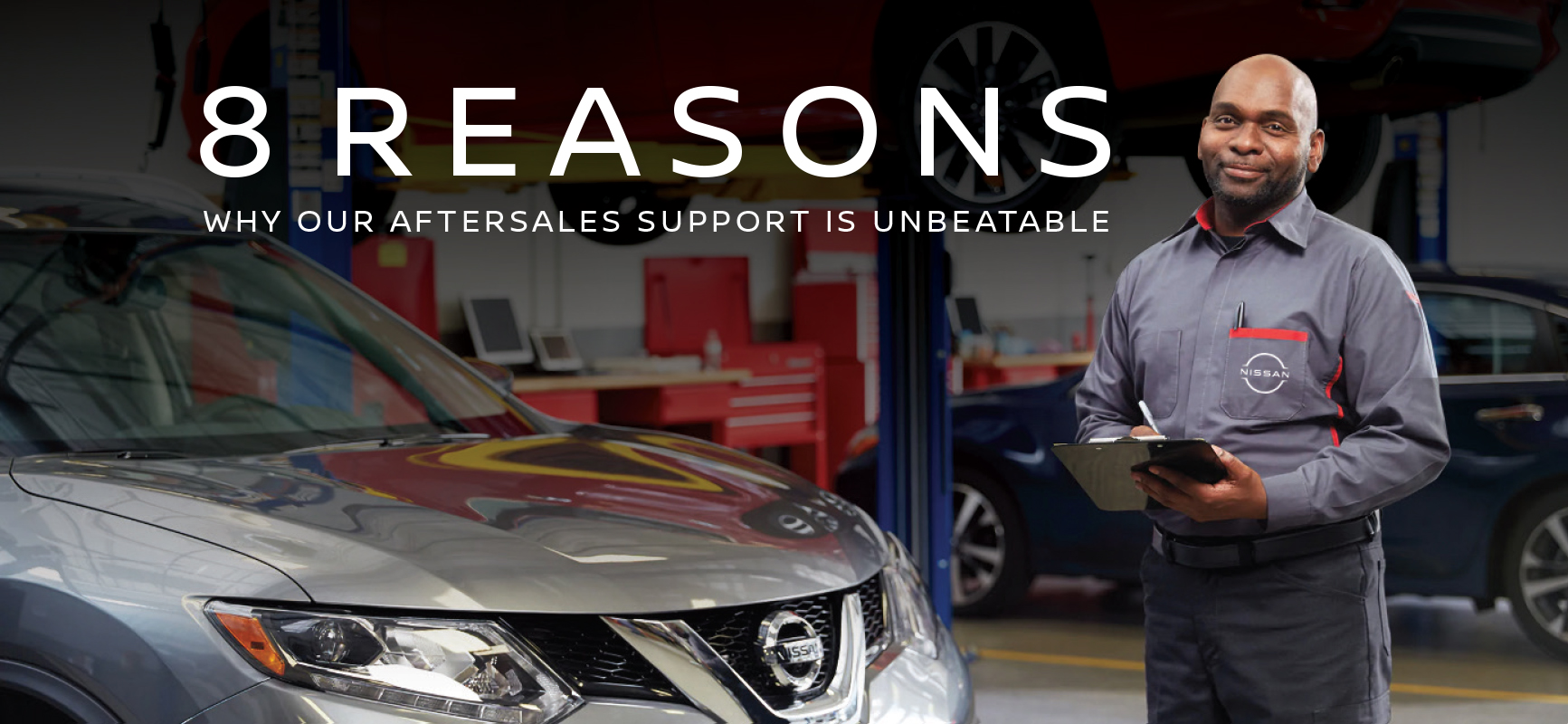 8 THINGS YOU SHOULD KNOW ABOUT NISSAN'S AFTERSALES SUPPORT
When you buy a Nissan, you're not just buying a vehicle. You're also getting the support and commitment of our Nissan family for all of our vehicles, whether imported or sold in Kenya. You can enjoy the benefits of our aftersales support for years to come – even after your warranty has run out. 
Here are eight things you should know about the aftersales services you get access to – from the moment you (proudly) own a Nissan until the day you (regretfully) sell it.
1. New vehicles come with a warranty
We want you to keep your brand new Nissan looking and driving as good as new for as long as possible. That's why we offer service and maintenance plans with new vehicles. Check with your nearest Nissan dealership for more information about your vehicle's warranty.  
2. We know when your next service is due 
If you don't know which service is right for your Nissan or even when the next one is due, it's no problem; we keep track of your maintenance schedule.  Call your nearest Nissan dealer and give them the following information to find out what service your vehicle needs and what it will cost:
• Model
• Engine type
• Mileage or duration 
3. We have highly skilled mechanics 
The mechanics and all other staff at our Nissan Franchised Service Centres are thoroughly trained in our top-class education and training programmes. So, you and your vehicle get only the best possible service and workmanship when you bring your Nissan in for any aftersales experience – whether that's a vehicle service or an accessory installation.
In addition, our technicians are regularly given the latest technological updates and information from Nissan Global. That means we continue to know your vehicle better than anyone else does.
4. We use state-of-the-art equipment
Our Nissan service centres are kitted out with advanced diagnostic equipment to test your vehicle and detect faults and problems before they even arise. We use this apparatus to make sure your vehicle goes out of our workshops in the best possible condition, so you can enjoy the best possible driving experience. 
5. We use Genuine Nissan Parts only
We only use Genuine Nissan Parts at our service centres. That's because Genuine Nissan Parts are far superior to any aftermarket parts. They are manufactured by us with strict quality controls on every part that leaves the workshop. They're specifically designed for your Nissan vehicle, making them the most reliable option.
The Genuine Nissan Parts we use in our service centres are built for the tough African terrain – they're durable and made to last. That's why we provide a one-year guarantee on all our Genuine Nissan Parts.
6. We offer an affordable Key Value service kit
Your older Nissan still has a lot of life left in it. Just because it's out of warranty doesn't mean it doesn't deserve excellent treatment. That's why we created Key Value. These affordable service kits are just what your vehicle needs to stay in great shape. Just like our Genuine Nissan Parts services, these kits come with a one-year warranty. They're designed by Nissan and are durable and tough enough to withstand harsh conditions while still being affordable. The best part is, you can get them everywhere – even in the most remote areas.
7. You get roadside assistance
From the moment you first sit behind the wheel of your Nissan, we're committed to giving you the best possible driving experience. That's why we include roadside assistance with every Nissan warranty. Whether you've run out of fuel far from the nearest petrol station or your battery runs flat in Nairobi CBD, we'll be there for you. 
8. Add on approved accessories
Need to enhance your vehicle's performance or just make it stand out to suit your bold personality? You can fit a range of approved accessories on a number of our models. Get sleek orange accents for your Micra so you can turn heads as you cruise through town. Or install a rugged contractor's pack for your NP300 Hardbody, which comes with a wrap-around bush bar, tow bumper and towing kit, and cattle rails. With our range of accessories, you can turn all-new into all-you.
Now that you know we have a comprehensive and committed support structure in place, get in touch with your nearest Nissan dealer today to find out how our aftersales can make your driving experience even more enjoyable in your Nissan vehicle.